Q: We are thinking about selling-what can I do to improve my interior's appearance on a budget?
A: Create Focal Points
Here, the bench and mirrored hatstand that blend into the woodwork are replaced with contrasting furniture. The colored chest and pillow combine to provide a focal point.

Pare Down
Books and photos go into storage, replaced with accent pieces and flowers that brighten the dark shelves.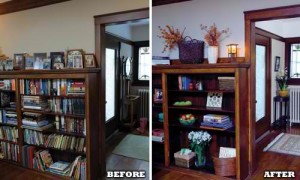 Think in Threes
Odd numbers create tension that provides visual interest. This principle is applied with three grass bundles on the fireplace hearth and three varied-height vases on the kitchen counter below. A painting retrieved from storage and a larger rug improve the balance of and add warmth to the mantle area.