Considering painting yourself?
A few things to consider are the scope of work, surfaces to be painted, accessibility of areas, time necessary to finish, are you able to move the furnishings yourself?
How to choose color
Choosing the color scheme for your home is difficult for most people, it's important to think about the look of each room individually, then consider how to have the colors flow together throughout the entire home. Lighting, furnishings, and carpet color all have part in choosing the perfect shade.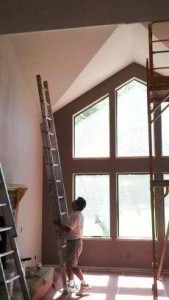 It is not necessary to use the same one or two colors throughout the home. Choose colors that are favorites for the room's users. Take the top four or five favorite colors (make sure they will coordinate with each other) and choose one or two accent versions. Start with the main living areas, choosing one main wall color, ceiling color, and trim/wood work color. Use accent color on opposing walls as desired. Move next into the individual spaces such as bedrooms, and use the occupant's favorite color. You can transition into the rooms by using a constant trim color-white typically fills this need. Lighter variations of the favorite color make an easy coordinating color for these rooms.
How to choose a sheen
Anticipate the rooms users-higher sheen paint allows easier clean up. Eggshell finish tends to be more trendy, offering easier clean up and rich tones. Flat paint works well on ceilings, especially if you have imperfections in texture or cracking.
Next, it's all about PREP!
Time spent getting a home ready for paint compounds itself for a big payoff come cleaning time.
Mask surfaces not to be painted with masking tape and paper

Sand shiny surfaces to allow proper adhesion
Wash off dirty surfaces
Spread tarps
Remove objects not to be painted such as switch plate covers, picture hooks, door knobs, blinds, and brackets
Pick your paint source/type
Inexpensive paint is not always the best bet especially when considering coverage and how many coats will be required

Paint stores often have a larger selection of 'stock' colors that will enable you to be able to purchase right off the shelf as opposed to having them mixed. They also have more qualified help to answer your questions
Interior and exterior paint have very different application uses, it is important to choose the correct one for the need
Pick your tools
If rolling the paint, smoother surfaces require shorter naps than rougher areas

Purchase a good quality paint brush-you will need to use this around perimeters or in hard to reach areas the roller won't fit
When using latex paints, synthetic or man made fibers are best both for the rollers and brushes
China bristle brushes are for use with oil based products and do not work well with latex paint
Paint time

Prime bare areas

Apply first coat of paint, allowing to dry completely
Apply second coat of paint to ensure proper coverage
Clean Up
Latex paint will allow easier clean up of paint tools, and when cleaned right away, you will be able to re-use the tools

Remove all paper, tape, and tarps-inspect for spilled paint or paint that has bled through the tape
'Goof Off', soap and water, or lacquer thinner will aid in clean up of unwanted paint