Electrical repair:
This is one area where most homeowners should consider professional help. Due to the danger of electrical shock and/or fires from faulty wiring, only experienced, licensed contractors should perform electrical repairs around your home relating to anything more than a switch or light swap out.
The first few tips are safety tips you can do yourself to decrease possible electrical problems that are electrically related.
Safety Tip 1- Use Surge Protectors For Your Home Electronics
A surge protector is designed to protect electronic devices by regulating the voltage supplied to an electronic device by either blocking or by shorting to ground voltages that are above a safe threshold. Plug your home electronics, such as flat screen TVs, computers and stereo systems into a surge protector to reduce the risk of damage from a power failure or other voltage spikes.
Safety Tip 2- Check The Electrical Cords To All Your Electrical Devices
Sparking due to frayed wires are a major cause of home fires each year. Check your exposed wiring (usually located at lamps, televisions, stereo equipment, computers, and personal electronics) for any bare or exposed wires, and have all problems repaired by a licensed professional immediately. Be sure to keep electrical cords away from family pets and small children that may play with them, or chew them. Avoid running electrical cords under rugs.
Safety Tip 3- Childproof Your Home
Available at most baby specialty and home improvement stores, child-proofing supplies are inexpensive and easy to install. More importantly, when installed properly, these devices protect small children from potentially dangerous outcomes.
Safety Tip 4- Install Smoke Detectors And Replace The Batteries Once A Year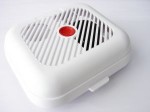 California now requires all homes to place a smoke detector in every bedroom and 1 on each level of the home. One carbon monoxide detector is required on each level of the home as well. Be sure to replace the batteries in your detectors at least once a year.